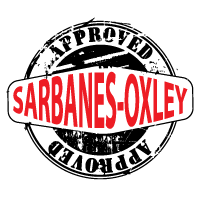 Over the past while, major corporations implemented much more stringent accounting, accountability and governance standards and processes. The Sarbanes-Oxley Act of 2002 requires that public United States companies include in their Annual Report a statement of the effectiveness of the company's internal controls over financial reporting. Canada, Australia and Japan are among other trading countries that have similar requirements.
The enterprise's independent auditor must attest to, and report on, management's assertion regarding financial controls. Companies with large dollar capital assets must effectively track those assets to ensure accurate Balance Sheets and Income Statements. The electronics industry is known for having high value assets that require constant and precise tracking.
I spoke to Alex Mitchell, the President of Vestigo Corporation, a provider of cloud-based container tracking systems. He says, "This is a particular issue with fleets of returnable shipping assets, such as totes, IBC's, containers, tanks or cages. Without a sophisticated track and trace management system in place, public companies that manage supply chains or asset inventories open themselves to Sarbanes-Oxley liability if error-prone processes lead to significant misstatements of asset inventory positions." This will trigger significant accounting and governance exposures when the Balance Sheet carries a financially material fleet of returnable assets, which can't be verified as to existence or location. Mitchell added that over the past 15 years, the tracking of Returnable Shipping Assets (RSAs) has become sharply focused.
The Customs authorities of the NAFTA countries may require a voluntary self-assessment or declaration on any importation that may be subject to duties or taxes. This may raise a disclosure obligation on the repatriation of returnable shipping assets that have been outside their country of ownership for more than 365 days whether it's Mexico, Canada or the United States.
An information Technology driven solution for RSAs, that is cloud-based, utilizes mobile devices, and is enabled by unique ID media such as bar codes, RFID, or 3G/4G tags can be a major step towards measuring and controlling critical assets throughout lifecycles. Unlike a GPS application, limited by direct sight to satellite, a 'track, trace, control' solution, necessarily includes not only each RSA's current inventory location, both internally and externally, but also a history of its contents and a 'passport' of where it's been from the date the asset was acquired
Mitchell mentions that while a 'track, trace and control' solution can help with internal and external audit requirements, regulatory compliance, and international trade requirements, an RSA tracking system slashes the costs associated with owning and using fleets of RSAs.
Some of the financial benefits you should also expect from an automated 'track, trace and control' system will be derived from focus on event-triggered exceptions and smart reports. These must address potential trouble areas of fleet performance such as stranded RSAs, excessive dwell or transit times, disruptions in operations, demurrage charges and packaging penalties, enlarged expedited costs, order fulfillment shortages, or inordinately high repair cost. Another management benefit would be the ability to sort or rank customer or supplier locations from "first to worst" in terms of the Returnable fleet performance while under customer or supplier control. The routine flagging of returnable assets due for maintenance or testing and certification will avoid loading outbound product into an inappropriate returnable that can't be shipped.
Mitchell believes that the system will improve Return on Assets (ROA) by increasing the velocity and utilization of returnables, which can be tracked and measured. As a consequence it will provide better performance intelligence when fleet size needs to be increased, or in the alternate, identify an opportunity to downsize the fleet.